Details
Features :
Interactive Functions Let You Write on a Projected Image
You can write or draw figures on the projected image with the interactive Pen/Pointer. The scanning camera frame rate of the PT-TW341RA, which is higher compared to our previous products, ensures smoother writing. In addition, two users can write simultaneously to make classes and presentations more effective. It is also easy to store the words and figures in a computer for information sharing.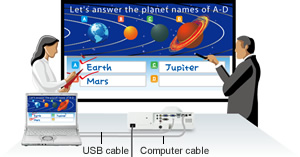 A Full 3,200 lm of Brightness and 10,000:1 Contrast Ratio
A brightness level of 3,200 lm and contrast ratio of 10,000:1 have been achieved in a compact, easy-to-carry body.
Bright, clear images enhance the variety of viewing situations and applications.
A Maximum of 8,000-Hour Lamp Replacement Cycle
It enables to operate for up to 8,000 hours without needing to be replaced.
This also helps reduce maintenance and operating costs.
A Long-Life Filter with a Maximum 5,000-Hour Replacement Cycle
A Long-life air filter has a replacement cycle of 5,000 hours.
This reduces maintenance hassles for long period of use, and helps to lower maintenance costs.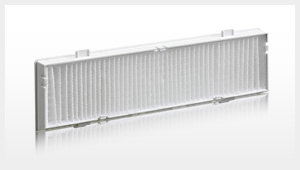 Quiet 28-dB Design Helps to Hold Viewers' Attention
The Noise level is as low as 28 dB. This helps your audience to keep their attention on the discussion or on the screen images during quiet scenes.
Daylight View Lite
The Daylight View Lite function can be activated from the remote control for easy and comfortable viewing during presentations and lectures in a bright room.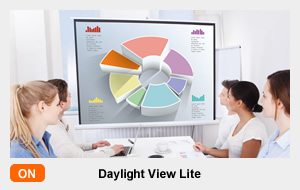 80-inch Screen Images with a Short Projection Distance Ranging from 0.8 m (2.62') (16:10 aspect ratio)
Close range projection reduces not only shadows of the presenter but also glare of the projection light, making lectures and meetings less stressful.
Corner Keystone Correction Enables Angled Projection
All you need to do is designate four points as the corner of the projected image, and this function easily carries out horizontal and vertical keystone correction.
Curved Screen Correction
Barrel and pincushion distortions are easily corrected when projecting onto a curved screen.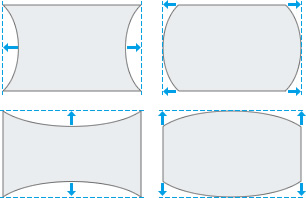 Easy Remote Monitoring and Control over a LAN
Web browser on a computer connected through a wired LAN system lets you remotely operate projectors and check their status. In addition, Multi Projector Monitoring and Control Software is available for monitoring and controlling multiple Panasonic Projectors from a single PC. The wired LAN terminal is compatible with PJLink (class 1), an open protocol that is used by many manufacturers, to enable integrated control of systems that contain different brands of projectors.
Memory Viewer Function
In addition to JPEG/BMP image and text files, PDF files can be projected by simply inserting a USB memory device containing the data into the USB memory port. Now you can start your presentation without having to connect to a computer.
USB Display Function for Easy Projection Using a USB Cable
USB Display outputs images and sounds from the computer without the need to install any software. Simply connect to the USB port with a single USB cable and start your presentation.
A Wide Variety of Functions for Easy Setup
Auto input Signal Search
The Auto Input Signal Search function automatically detects the input signal and selects the input channel based on the signal. This function lets you start a presentation without any complicated setup required.
Color-board and Blackboard (Green) modes
Color-board and Blackboard (Green) modes adjust the colors to provide high-quality projection possible in rooms that don't have a screen.
Equipped with an HDMI Input Terminal and Abundant Interfaces
Extensive Interfaces includes an HDMI input Terminal, 2 sets of computer (RGB) input terminals, a wired LAN terminal, and a serial (RS-232C) terminal for external control. These features support a wide range of system architectures for portable or ceiling-mounted use.
10-Watt Speaker Enables Audio Playback Directly from the Projector
These portable projectors feature high-output 10-watt speaker that produces a high sound volume without requiring external speakers.
Easy Lamp and Air Filter Replacement Simplifies Maintenance
For easier maintenance, you can replace the lamp from the top and the air filter from the side, even after the projector is installed on the ceiling. This eliminates the need to detach the projector from its mounting bracket in ceiling-mounted applications.