Details
Lamp Free LED+ Projector

Intuitive presentation technology at your finger tips effortlessly puts the class in the palm of your hand.

An innovative light engine improves efficiency, reducing power and maintenance costs while minimising the impact on the environment.

Together we can all look forward to a brighter future.
The most intuitive way to present
Instantly present from your phone or tablet using the free App: WiFi-Doc. Available for both Android and iOS devices, WiFi-Doc gives you the freedom to move around the classroom, share ideas and connect with your students like never before, to create a more collaborative learning experience for everyone.

Use your device's touch screen to browse, flick between slides and pinch-to-zoom.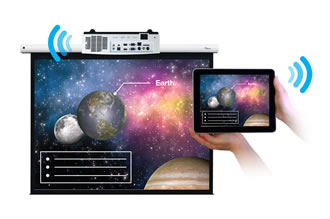 Scan barcode to download Wifi-Doc
Keep up to date with the latest lesson plans and materials - simply email files to your device, open the attachment directly into WiFi-Doc and you'll be up and running in seconds.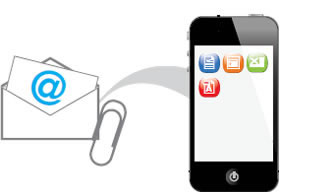 Wifi-Doc and other extended wireless features require the optional Optoma mini-WiFi dongle accessory.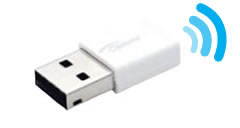 Cost savings with efficient Eco+ features

Eco+ technology brings together superb performance, improved life and energy saving features that are easy to use while saving you both time and money.
Consuming only a fraction of the power and less than 0.5W in standby, LED+ projectors are a big step forward in reducing our energy footprint and with no lamp, LED+ projectors are also completely free of mercury.
Dynamically dimming your projector's light source, Eco+ technology reduces power consumption to as little as 30%* reducing running costs and prolonging the life of your projector.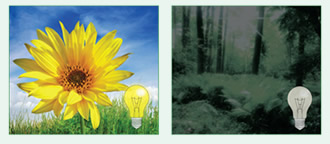 *Values are dependent on models. Please check individual models' specifications for more detailed info.
When combined with DarkChip3™ DLP® technology from Texas Instruments, Eco+ dynamic dimming gives you higher contrast than ever before. Pin sharp graphics, crystal clear text, crisper whites and ultra-rich blacks make images come alive and text easier to read.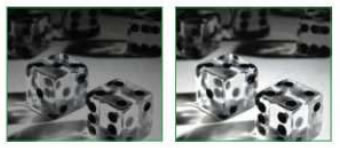 Auto Power Off
There may be instances when the projector is left running when not in use. To help save energy, if the projector is left running and no source is detected, the "Auto Power Off" feature automatically turns off the projector after a set period of time.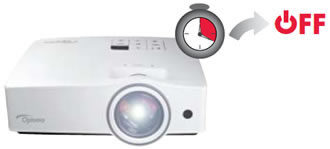 Stay in control of your lessons with the Eco AV mute feature. Direct your class' attention away from the screen by blanking the image when no longer needed. This also instantly reduces the power consumption to 10%.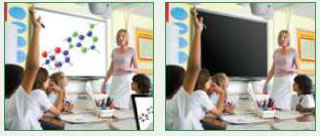 Eco AV mute off
Eco AV mute on
Eco+ mode
Eco+ mode can be easily enabled via the remote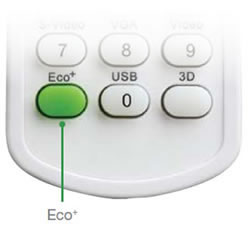 Stay in control
Not only simple to install, LED+ projectors can be monitored and controlled in numerous ways to ensure that they are also effortless to maintain.
Greatly reduce running costs - use the free network management software (Crestron RoomView™) to automatically switch ON/OFF up to 250 projectors from a single location.
Crestron Roomview™
RoomView® software provides a custom configurable interface to monitor, manage and control every device in every room remotely from any computer.
Manage up to 250 projectors at the same time (via master PC).

Control and alter the projector settings using a simple web browser page including OSD menu control.

Set up email alerts for warning messages.

Ideal for large installations in both the educational and business environments.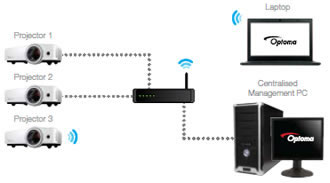 The easy-to-use interface allows you to manage all the units connected to the network in one place.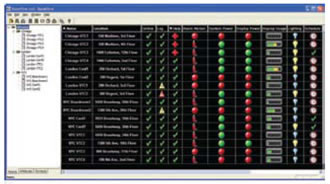 Download Crestron RoomView® Express software from: www.crestron.com/getroomview
Reduced Total Cost of Ownership
With so much technology packed into such a small package, it is hard to believe that it can all lead to huge long-term cost savings. Here's how:
No Lamp replacements

No filter cleaning

Reduced Power consumption

Easier to Install & maintain

Automated Power On/Off Schedules

Real-time status monitoring
Lamp Free LED+ - Longer life and less maintenance
With an exceptional life-span, cutting edge lamp-free LED+ technology completely eliminates the need for expensive replacement lamps. Saving you both time and money, whilst leaving you certain that your projector will be fully operational for many years to come.
Due to the exceptional colour fidelity created by LED+ technology; in many situations the perceived brightness of an LED+ projector can be up to twice the brightness of an equivalent lamp-based projector.
As much more of the light produced ends up on screen, less light is wasted; meaning that LED+ projectors are not only more efficient, but also give you incredibly rich and vibrant colours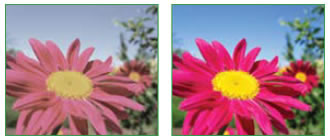 Combining the benefits of both higher efficiency and higher brightness, our LED+ Lamp-free projectors use LEDs for Red and Blue, but generate Green by shining a blue LASER onto a green phosphor.
The Blue lasers used in Optoma LED+ projectors are more efficient and generates less heat than the red lasers typically used in other lamp-free projectors, leading to a quieter, longer-lasting and more efficient projector.
Learn more about LED+ Technology
Highly Efficient Blue LASER
After it is switched on, a lamp based projector will typically take several minutes to reach full brightness. LED+ technology reaches full brightness only seconds after you hit the power button, meaning you can get straight down to business.
Huge images in small spaces
LED+ projectors can project an impressive 60" from as little as 68cm from the screen, eliminating shadows on the screen allowing you to present with ease.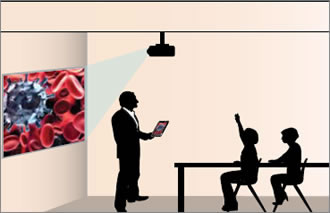 Control at your fingertips
Keep their attention focused on the right things using the simple, yet powerful remote with laser pointer and USB mouse control.
If you don't have a smartphone or tablet, don't worry… simply copy your documents, images and videos to a USB stick or SD card and display them using the on-board media players…without the need to convert them!

Easily navigate the friendly interface which automatically sorts your files, so you can quickly find them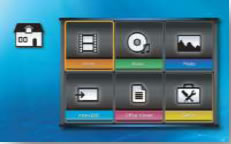 Producing less heat allows LED+ projectors to run cooler for longer... And with fewer cooling fans needed, they not only waste less energy, they can run quieter too…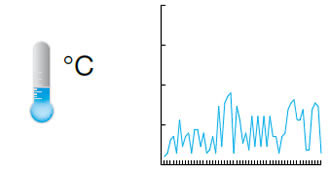 …so that the integrated powerful 10W speakers can really fill the room with sound.
If your school, college or university is looking to replace older projectors but already has interactive whiteboards, there is no need to make a large investment in new whiteboard hardware.
Optoma have put together a range of mounting solutions, including Promethean compatible mounts, to ensure that your existing infrastructure can remain intact.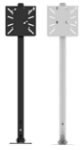 OPCMW835 / OPCM835W
A wall mount for Optoma short throw projectors featuring a high quality telescopic arm and height adjustment plate for versatile installation with screens or interactive whiteboards in classrooms and offices.
1Lamp based projectors brightness and lifetime will vary depending on selected projector mode, environmental conditions and usage. As is common with all lamp based projectors, brightness will decrease over the lamp lifetime. LED projectors do not have a replaceable lamp and the brightness does not decay significantly over the product lifetime.