Details
Simple to set-up, the Optoma WPS-Dongle lets you connect and display presentation materials wirelessly from a smartphone, tablet, laptop or mac.

Instantly download and install the powerful yet intuitive software to get connected, then just click play to start projecting.

Featuring advanced WEP 64/128-bit wireless security protection, the WPS-Dongle ensures your information is always safe.

The WPS-Dongle is compatible with all Optoma SVGA, XGA, WXGA and 1080p* projectors using the supplied DC adapter.

*WPS-Dongle only supports up to WXGA (1280x800) resolution on 1080p projectors.

Alternatively it can be powered directly from the VGA port from the compatible projectors listed below.

Compatible with VGA power:
DX346 EW615 EW631 FW5200 FX5200 W304M W305ST W306ST W401 W501 X304M X305ST X306ST X401 S316 X315 X316 W300 W316 DX346 X501 W505 X600, DH1011, EH300, W350, W351, S310, DS340

Compatible with external power:
All Optoma SVGA, XGA, WXGA and 1080p projectors with VGA Input.


Compatible operating systems
Desktop Software: Windows XP/Vista/7/8/8.1, Mac OSX 10.5 and above
Mobile devices: Android, iOS
The most intuitive way to present
Instantly present from your phone or tablet using the free App:WiFi-Doc. Available for both Android and iOS devices, WiFi-Doc gives you the freedom to move around the room, share ideas and connect with your audience like never before, to create a more collaborative experience for everyone

Use your device's touch screen to browse, flick between slides and pinch-to-zoom.
Keep up to date with the latest lesson plans and materials - simply email files to your device, open the attachment directly into WiFi-Doc and you'll be up and running in seconds.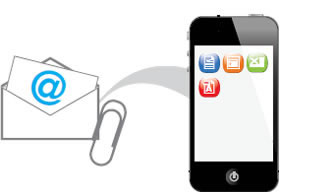 SCAN BARCODE TO DOWNLOAD WIFI-DOC
Project wirelessly from your tablet, smartphone, laptop or netbook.
Intuitive presentation technology at your finger tips effortlessly puts the audience in the palm of your hand.
Wireless projection using four laptops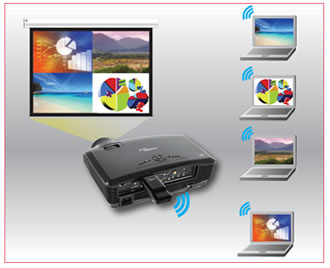 Wireless projection using a smartphone / tablet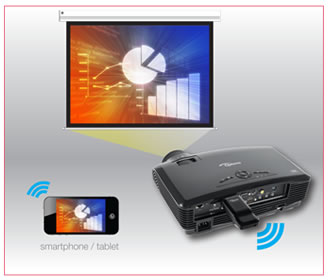 *To be compatible with WPS the projector must have a VGA input and support the output resolutions listed.