Details
Short Throw
With a short throw lens, you can project an impressive 100" image from just over a metre away. This allows you to place the projector closer to the wall, reducing shadows so you can present with ease
High Contrast
Add more depth to your image with a high contrast projector; with brighter whites and ultra-rich blacks, images come alive and text appears crisp and clear - ideal for business and education applications.

Full 3D
Optoma projectors can display true 3D content from almost any 3D source, including 3D Blu-ray players, 3D broadcasting and the latest generation games consoles. Support for 144Hz rapid refresh rate provides ultra-smooth flicker free images.

Integrated Speaker
The built-in speaker offers excellent audio support. Easy to set up without the need for costly external speakers
Energy Saving
Using the specially designed lamp modes, you can reduce the power consumption by up to 70%. Each mode also has a positive effect on the lamp life, while lowering the total cost of ownership and reducing maintenance

Auto Power Off
There may be instances when the projector is left running when not in use. To help save energy, the "Auto Power Off" feature automatically turns off the projector after a set period of time if it is not being used
Eco AV Mute
Stay in control of your presentation with Eco AV mute. Direct your audience's attention away from the screen by blanking the image when no longer needed. This also reduces the power consumption by up to 70%, further prolonging the life of your lamp.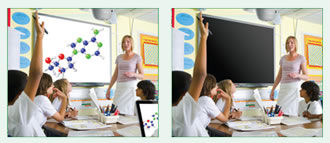 Long Lamp Life
Reduce the number of lamp changes with lamp life of up to 8,000 hours² using the Education Cycle.
Remote Mouse
Keep your audience's attention focussed on the right things using the simple, yet powerful remote with USB mouse control.
Colour Guarantee
Enjoy dazzling colours for years to come; guaranteed by Optoma for five years' consistent performance.

Amazing Colours
For vibrant, natural looking images, Optoma projectors incorporate BrilliantColor™ multi-colour processing technology.

Quick Resume
This feature allows the projector to be instantly powered on again, if it is accidentally switched off.