Details
Super-sized home entertainment
Bright vivid colours – 3,200 ANSI Lumens
Full HD 1080p image quality
Dynamic black technology - 25,000:1 contrast ratio
Easy connectivity - 2x HDMI and MHL support and built-in 10W speaker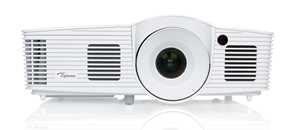 Super-sized home entertainment

Created for super-sized 1080p home entertainment, the bright HD26 is perfect for watching TV shows, sports and movies or playing action-packed games on a huge screen.

With a built-in speaker and two HDMI inputs the HD26 is easy to setup and use. Turn it into a smart projector by connecting your smartphone or tablet using MHL; now you can play games, stream videos and share photos on the big screen.

Full HD 1080p
1080p resolution gives you sharp and detailed images from HD content without downscaling or compression; perfect for watching Blu-ray movies, HD broadcasting and playing video games.

Optoma projectors can display true 3D content from almost any 3D source, including 3D Blu-ray players, 3D broadcasting and the latest generation games consoles. Support for 144Hz rapid refresh rate provides ultra-smooth flicker free images.
Gaming Mode
Gaming Mode optimises your projector for lightning response times, maximum contrast and vivid colours to capture every detail - leaving you time to focus on winning.
MHL Connectivity
Turn your projector into a smart display by connecting your smartphone or tablet with a single cable using MHL; now you can play games, stream videos and share photos on the big screen.
HDMI Link
HDMI link lets you to turn o

n and off two or more HDMI-CEC capable devices using a single remote control.
Dynamic Black
This feature gives more depth to your image by smoothly adjusting the lamp output, based
on the brightness information of each frame; to create a stunning high contras
t ratio. Bright scenes appear crisp and clear, while dark scenes remain detailed with deep blacks and exceptional light and shade detail.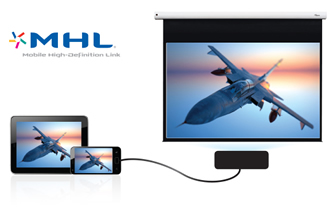 24p

Most movies are shot at 24 frames per second (fps). To preserve the purity of the original image, Optoma projectors can accept high definition sources at 24 fps to display movies exactly as the director intended.
Amazing Colours
For vibrant, natural looking images, Optoma projectors incorporate BrilliantColor™ multi-colour processing technology.
Color Guarantee
Enjoy dazzling colours for years to come; guaranteed by Optoma for five years' consistent performance.

Integrated Speaker
Complete your home entertainment experience with the convenience of a powerful built-in speaker. Built-in speakers provide exceptional sound quality and are easy to set up without the need for costly external speakers.
Long Lamp Life
The expected lifetime of a typical Optoma projector lamp is an impressive 6500 hours; so if you watch a two hour movie every day, the lamp should last for almost 9 years