Details
Utilising the latest DLP® technology, the EH300 delivers exceptional crystal-clear Full HD native resolution and immersive 3D visuals.

Producing a stunningly bright image with perfectly balanced vivid colour, crystal clarity and exceptional light and shade detail only possible with a high contrast projector. The EH300 is perfect for projecting a broad range of applications including technical, advertising media and medical uses where detail matters.

Installed or on the move using the included carry bag, the versatile EH300 has a powerful on-board 16W stereo speaker, HDMI connectivity and energy saving features including ECO mode and auto power off saving you both time and money for hassle-free, long-lasting projection.

Lights on viewing
The EH300 produces fantastic images even when the lights are on with 3800 Lumens. Designed to be used in ambient light the high brightness EH300 can be used without even dimming the lights.
Full HD 1080p
Sharper more detailed projection with 1920 x 1080p pixels, perfect for watching Blu-ray movies without downscaling or compression.

Full 3D
Using the inherent speed of DLP technology, The Optoma EH300 Full 3D projector can display true 3D content form almost any 3D display device, including 3D Blu-ray, PS3, Xbox and Sky3D.

Dynamic Black
Dynamic black smoothly adjusts the lamp output automatically, based on the brightness information of each frame; to create a stunning 15,000:1 contrast ratio. Bright scenes are crisp and clear, while dark scenes remain detailed with deep blacks which gives exceptional light and shade detail.

Amazing Colours
The EH300 incorporates BrilliantColor™ multi-colour processing technology to bring stunning, vibrant colour to your screen. You can even fine tune colours for ultimate precision.
Color Guarantee
We are so confident that the EH300 image colour quality will remain as good as the day you bought it that Optoma will guarantee it for five years.

Audio WOW - SRS WOW HD™ Surround Sound
Experience the WOW factor with SRS WOW HD surround sound audio processing to create a more natural audio experience. With a deep, rich bass response.
Easy to set up without the need for costly external speakers the EH300 offering exceptional sound quality with powerful on-board 16W stereo audio.
SRS WOW HD Features
Stereo enhancement which improves dynamic audio performance

Sculpted bass response for maximum thump from the on-board speakers

More natural audio with a wider sound field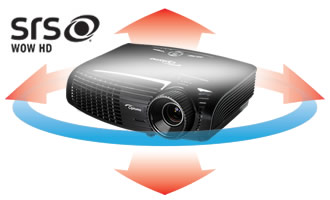 Bigger, wider sound field
RS232 Control
RS232 Compatibility - The EH300 comes with an extensive RS232 command set making it simple and easy to control with any control system.
AMX Compatibility - Dynamic Discovery
Protocol is incorporated into the EH300. This feature allows for easy installation with AMX control systems.

USB Remote Mouse and Laser
Control your presentation with dedicated left and right click mouse buttons on the included remote control. You can also point to things on the screen without having to stand in front of the projected image with the built in laser pointer (USB cable required).
Auto Power Off
There may be instances when the projector is left running when not in use. To help save energy if the projector is left running and no source is detected, the "Auto Power Off" feature automatically turns off the projector after a set period of time.
Eco AV Mute
Stay in control of your presentation with the Eco AV mute feature. Direct your audience's attention away from the screen by blanking the image when no longer needed. This also instantly reduces the power consumption to 30%, further prolonging the life of your lamp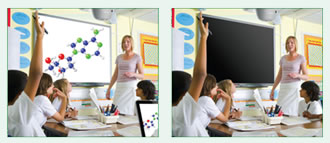 Long Lamp Life
Reduce the total cost of ownership with a lamp life of up to 6000 hours. The EH300 uses Dynamic Black technology to significantly lower the cost and number of lamp replacements.

We know that improving our products is the best way to reduce our impact on the environment. That's why at Optoma we design our products to have a long usable life, use fewer materials, ship with the minimum packaging and be free of all possible toxic substances. Naturally, energy efficiency and being recyclable are built in at the design stage. With each new product, we strive towards minimising our environmental impact.
EH300 Remote Control
3D control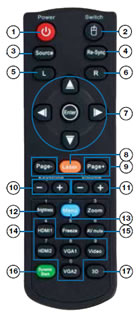 Power

Mouse select

Source

Re-sync

Left mouse click

Right mouse click

Mouse control

Laser

Page up/down control

Vertical keystone correction

Volume control

Brightness

Menu

Direct input source select

Eco AV mute

Dynamic Black

3D control
EH300 Connections

USB Service

HDMI 1 (1.4a 3D)

HDMI 2 (1.4a 3D)

Composite Video

VGA 1 In

VGA 1 Out

Audio In (VGA 1/2)

Audio Out

3D-Sync

VGA 2 In

RS232

Audio In (Video)

Kensington™ Lock