Details
Features
Improved feeding for large volumes of mixed batches
Mechanism for stable paper feeding and ejecting that prevents document damage and paper mis-feeds
Scan various types of business documents with a single scanner
The straight paper path design provides reliable scanning regardless of the condition and type of paper.

The Paper Picking Control function observes each document's movement, and controls the pressure on the papers, making smooth, continuous feeding possible.
By simply changing the feed mode to Manual/Single mode, you can easily scan thick documents such as drawings folded in half, multi-layered receipts, and envelopes with the same straight paper path operation.


Protect important information by preventing missing edges and document damage
Skew Reducer significantly improves the feeding performance and prevents a scanned image from missing an edge.





Paper Protection function minimizes the risk of document damage and protects your important documents by detecting anomalies in sound and document length.
Design that meets the user's needs
The fi-7700 helps improve the efficiency of operations by providing a variety of functions that make scanning easier for the user.
Fully utilize allocated space with its flexible design
The scanner is equipped with an ADF that can slide to the right or left or rotate 180 degrees. A user can load documents easily for scanning by adjusting the ADF to suit the user's office or workspace environment.




The operational panel is equipped with an LCD to easily check the status of the scanner.
Save time before and after scanning
When setting documents, you can easily align the edges of the documents with independent Side Guides even if the size of each document varies.


Stacker Side Guides align scanned documents and stack them evenly to reduce time and effort required post-scan.


The Cover-open Cropping function automatically recognizes the document's size, even when the cover is opened, and eliminates the hassle of opening and closing the cover when consecutively scanning documents.



Advanced software for your work efficiency
Software to improve efficiency in your business workflow
The PaperStream IP Twain and ISIS eliminates the need for fine setting adjustments during image processing. It automatically converts scans into exceptionally clean images, accelerating OCR even when scanning wrinkled or soiled documents, or documents with a background pattern. With an intuitive interface, PaperStream Capture effectively and efficiently allows you to feed information into your organization's workflow through various capture features during batch scanning.


Barcode recognition, automatic sorting, and indexing
PaperStream Capture uses efficiency features to effectively feed information into your organization's workflow during batch scanning. Use barcodes or patch codes to sort scanned images into pre-configured folders to be saved or indexed for later use. PaperStream Capture simplifies and automates scanner operation for improved productivity.
Heavy-duty & flexible production scanner for professional use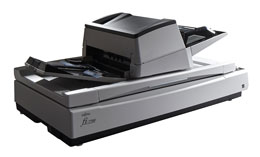 The fi-7700 allows you to scan A4 landscape documents at 100 ppm/200 ipm (200/300 dpi). The scanner is suitable for continuous scanning because it allows you to load up to 300 sheets at a time which improves efficiency when scanning a large volume of documents. In addition, various types of documents, such as thin paper, plastic cards, books, magazines, envelopes, and long page documents can be scanned on this scanner.
Fast scanning — up to 100 ppm in color or monochrome, landscape
Paper chute capacity up to 300 sheets
Capable of handling various thicknesses and sizes
Paper Protect function which protects against paper jams by detecting anomalies in sound (iSOP: Intelligent Sonic Paper Protection) and document length
Flexible design and LCD panel for easy operation
Independent Side Guides for easily aligning mixed size documents
Comes with PaperStream IP (TWAIN/ISIS), PaperStream Capture and PaperStream Capture Pro is available as an option.