Details
Overview
Featuring wireless Full HD 2D and 3D 1080p performance and an astounding contrast ratio of up to 320,000:1, the Epson TW9100W makes it easier than ever to entertain family and friends with brilliant colour and exquisite detail. Delivering 2,400 lumens of colour/white light brightness, using Epson's 3LCD, 3-chip technology, the TW9100W projects brilliant images with true-to-life colour. Use the included Epson wireless transmitter for quick, easy setup anywhere, without having to run additional cables - the ideal solution for difficult installation areas. This state-of-the-art performer even includes THX certification and ISF calibration, for movie viewing the way filmmakers intended.
C2Fine™ technology delivers a higher contrast ratio for exquisite detail
C2Fine offers smooth, uniform images with exceptional contrast for better image quality. Based on this new phase-compensation technology, light leakage is eliminated, and, when combined with the auto iris, this technology allows for contrast ratios up to 320,000:1.


Imaging Science Foundation (ISF) calibration and colour management
The Epson TW9100W features ISF certification for top video performance. And, it includes specific ISF picture memory modes, such as ISF Day and ISF Night, along with six other pre-named ISF memory modes and two additional modes. To prevent mis-adjustments that may inadvertently happen after installation and calibration, critical adjustments can be locked. To assist with properly adjusting colour saturation and hue (tint) using SMPTE colour bar test patterns, the TW9100W makes it possible to turn off the Red and Green imaging pixels, leaving only Blue. This allows the user to make adjustments without needing a gel filter. A Red-only mode is also provided.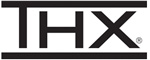 THX display certification – Ensure accurate and exceptional picture quality
Exceptional performance standards for black levels, resolution, contrast, colour gamut and signal processing. The TW9100W also includes a Versatile Movie Mode setting; a playback setting that lets consumers experience studio colour, black levels and clean-signal processing with few calibration adjustments.
Super Resolution
Makes DVDs and standard definition content come alive via its mixed colour separation techniques and imaging simulation. It delivers crisp, clear images with super high-quality resolution. It also sharpens blurry images that have been enlarged by a general upscaling process.


Super Resolution Technology OFF Super Resolution Technology ON
Frame Interpolation
Film is encoded on Blu-ray at 24 frames per second. FineFrame deconstructs and reconstructs these sources for a 1080p frame rate output of up to 120Hz, virtually eliminating flicker and frame-to-frame judder. The 4:4 pulldown function also makes corrections for improperly encoded sources, and features a reverse 2:3 pulldown detection and correction function.

Only from Epson — Wireless HDMI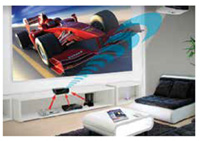 Put your projector anywhere you want without running extra wires
Setup your projector wherever you want. There's no need to worry about drilling holes, running cables or taking a lot of time for complicated software installations. Just plug your projector into a power source. The wireless receiver is built in so you do not need to connect anything else. And, the wireless transmitter's compact design makes it blend into any environment. The EPSON transmitter streams a Full HD signal wirelessly, so you can keep things tidy and keep your A/V equipment separate from your projector.

Secure, Full HD 1080p video wireless streaming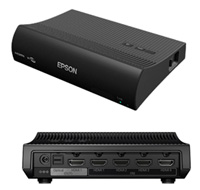 The EPSON Wireless HD™ streams reliable, HD 1080p, 60 Hz video from one device to another, within the same room, at a distance of up to 10m, with stellar full HD 1080p image quality. The system is HDCP compliant and can stream copy-protected content. Its fast signal transfer ensures real-time transmission of HD media without buffering or drop out. The wireless transmitter provides a secure connection that resists interference with nearby wireless routers.
Connect your receiver, Blu-ray player, game console, streaming device like Apple TV, and more. You can even connect speakers via the optical connection. View a second device using the wireless picture-in-picture mode. Switch between up to 5 connected devices with the preview mode. The wireless transmitter connects to up to 5 HDMI devices simultaneously, has one HDMI out connection, and one optical port.


Pass-Through Mode
Setup your A/V equipment once, connecting to both your projector and a second display device such as a TV. Whether you want to view content on your projector or your second device, you no longer need to unplug and re-plug in your devices. All you need to do is connect both devices to the EPSON wireless HDMI transmitter and then choose which display device you'd like to use.
Bright 3D Drive Technology for 3D Cinematic Adventures
Enjoy thrilling 3D adventures right in the comfort of your living room. Featuring Bright 3D Drive technology, the TW9100W puts you right in the middle of the action. Epson's drive system minimizes the blackout time of 3D glasses and provides greater brightness when viewing 3D content.
2D-to-3D Conversion


Transform any 2D movie, from the latest science-fiction adventure to your favourite classic, to spectacular 3D. Or, watch the big game in exciting 3D. The TW9100W makes it easier than ever with convenient 2D-to-3D conversion. With just the touch of a button, you can watch your favourite shows and movies in eye-popping 3D. There are no special discs required. And, the possibilities are endless.

Two Rechargeable RF 3D Glasses Included
Enjoy 3D adventures from any seat in the house. Line of sight is not required with the included RF 3D glasses. Rechargeable for up to 40 hours of battery life, these innovative glasses have a 3-minute quick-charge feature for up to 3 hours of battery life.

Advanced Auto Iris Technology (2D and 3D)
Epson Auto Iris technology adjusts the aperture to provide optimum contrast and brightness for each scene.
Split Screen Feature
Project two images (video or still) side-by-side from two different sources simultaneously. Choose from three layout options. You can swap the images as well as choose the source for audio.

Connectivity Panel